at Dominican University of California
General Housing Facilities Area Information Arrival Information Host Institution
Tel: 1(415) 485-3224
E-mail: sra@ELS.edu
Homestays in the local area
Free daily shuttle van back and forth to ELS (4KM) on class days and once a week trip to the local Supermarket
Location:
Homestays in the area
Room Type:
Singles
Meals:

14 meals per week. Homestay families offer a continental breakfast as well as a full dinner everyday. The host parents are encouraged to spend time with their student during mealtimes though it is not always possible in the morning. If the student has any special dietary needs, it is imperative that the student informs us and also has a conversation with their host family to ensure that the need is met.

Min Age:
18
Maximum age: 30 years old
Key/Damage:
None
Description:

Live like a local with host families. American families are often very different from how they are portrayed in the media. Each one is unique; staying with an American family is an eye-opening experience into different lifestyles. It is common for families to have children and pets - the more the merrier! Everyone helps out around the house and students are responsible for keeping their bedroom area neat and generally picking up after themselves. The Golden Gate Transit bus line serves the San Rafael area and there are bus stops within a 5 minute walk of the Center. Students may be responsible for transportation to/from the Center.

The average commute time is currently up to 45 minutes by public bus, or in some cases bicycle, or foot. In some cases, host families are willing to provide transportation, although not required. The Center's homestays are conveniently located close to GGT bus stops, so students have the freedom to travel at their own pace.

Home types vary, but in general, ELS host families live in safe and affluent neighborhoods near the Center. ELS students will be assigned single rooms, most with shared bathrooms. All homes have heating and wireless internet but may not have air conditioning. ELS students will have access to living areas, the kitchen and laundry areas in the home.

What better way to practice your English and learn about American culture than to live with an American family!
Location:

San Rafael International Student Home
179 Los Ranchitos Road
San Rafael , CA 94903

Room Type:
Doubles
Meals:
No meals included, but students may cook in the large and well equipped kitchen, or eat at the nearby restaurants or food court that are within walking distance of the Student Home.
Min Age:
18
Key/Damage:
Not required, but students are expected to sign a housing damage form indicating responsibility to pay for any damage they may cause.
Description:
The San Rafael International Student Home is located in a very safe, residential neighborhood just 4km from the ELS Center. It is a 5-10 minute free shuttle ride between the center and residence.

The San Rafael International Student Home offers shared (double) bedrooms. Students will share a bathroom (usually for two or three students) and living area with other residents. When a bedroom is shared, students are usually paired with another student from a different country. However, students can request to be paired with a friend. Each room is provided with linens (mattress cover, bed sheets, two blankets, one towel and one pillow) as well as a desk and closet space. The facility also offers additional storage space for empty luggage and bicycles. All students have access to plates, pots and pans, cutlery and cooking utensils.



Single Room is sometimes available per special request. Contact Center directly.
Free daily shuttle van to ELS and anywhere in San Rafael
Walking distance to a large shopping mall with cinemas, restaurants and inexpensive food court
Next to bus stop with bus service to San Francisco
Shared living rooms with TV
Wireless internet
Shared dining room
Shared fully-equipped kitchen
Recreation room
Laundry room
Every other day cleaning service for common areas and requested bathrooms

Reserved by:
Reserve through ELS Central Admissions at the time of the application. Housing deposit is required to reserve.
Student Home room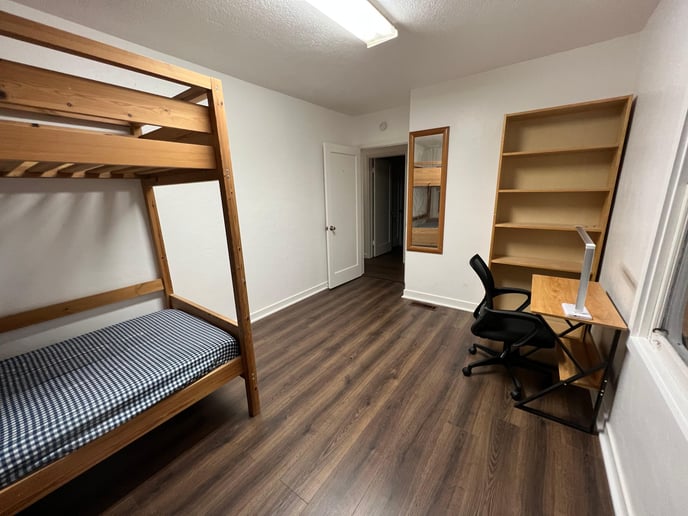 Students relaxing in their room at the Student Home
Student Home kitchen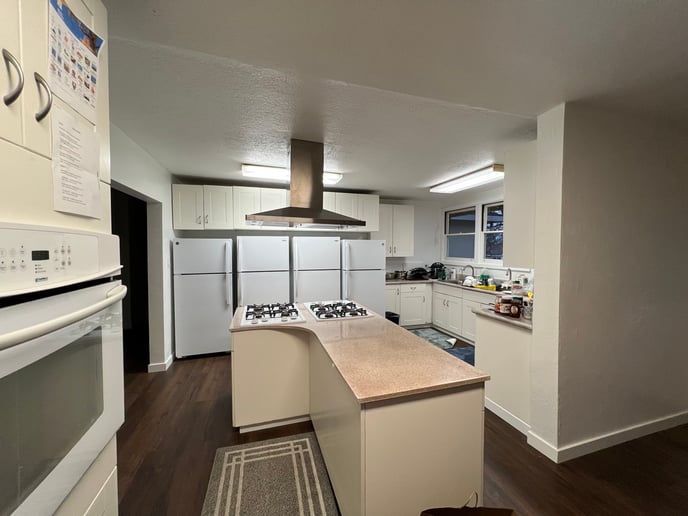 Students cooking at the Student Home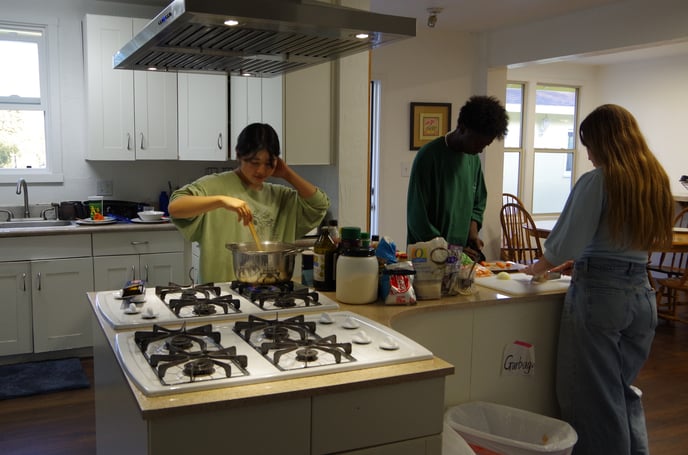 Student Home lounge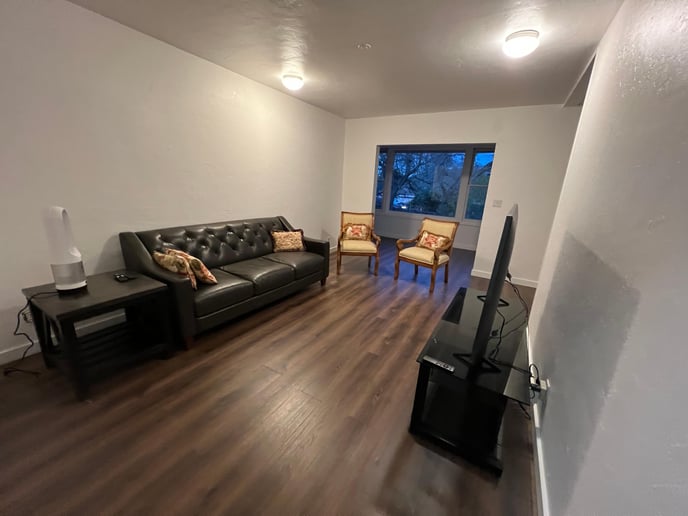 Student Home bathroom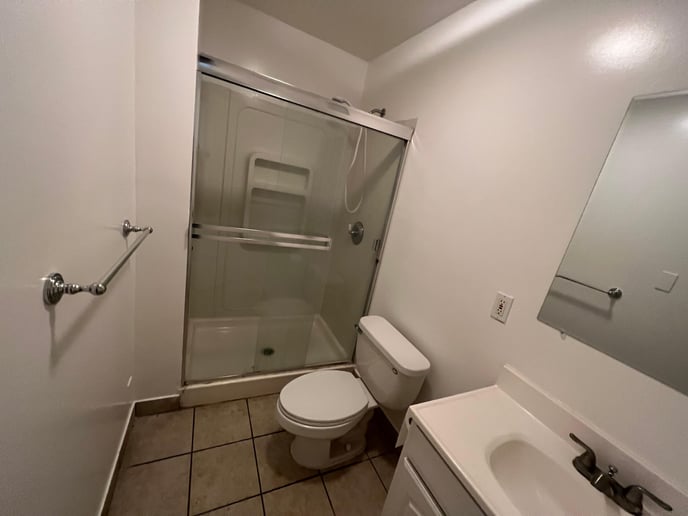 Student Home outside deck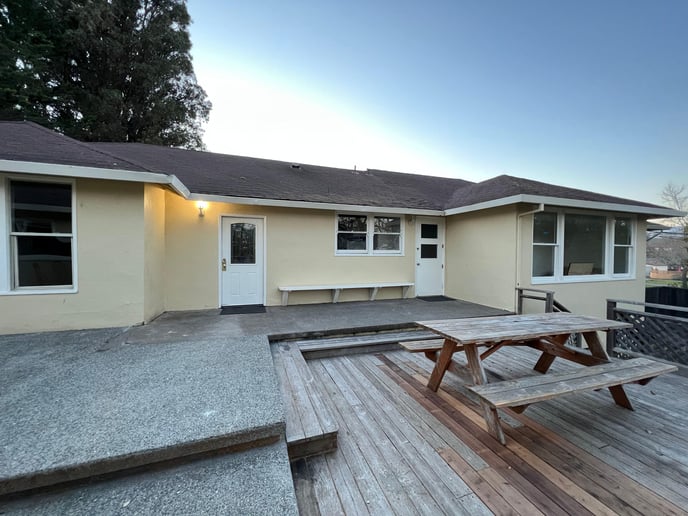 Student Home students having a barbeque